---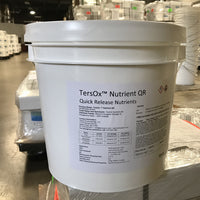 TersOx™ Nutrients-QR
Features and Benefits:
TersOx™ Nutrients-QR is a fast-acting soluble

nutrient blend for bioremediation

For both

 

ex situ

 

and

 

in situ

 

bioremediation
Blend of nitrogen, phosphorous and microbial growth enhancers that provide a source of urea, phosphate and potassium
Compatible with bioremediation products from Tersus 
Packaging:
25 lb. Pail
Application
Both in-situ and ex-situ bioremediation of organic contaminants in aquifers, soils or sludges provide a low-cost, easy route to the removal of constituents of concern. Contaminated matrices are usually deficient in nitrogen and phosphorus content, key elements in biological activities during microbial destruction of organic contaminant destruction. Using TersOx™ Nutrients provides limiting nutrients in a mixture of environmentally compatible salts and biodegradation rates are maximized.

TersOx™ Nutrients is a specialty blend of nitrogen, phosphorus and microbial growth enhancers to stimulate biological activity in soils and sludges. TersOx™ Nutrients provides a unique, balanced blend of limiting nutrients to enhance the rate and consistency of biological degradation of contaminants in aquifers, soils, sludges and wastewater.

Tersus blends site-specific combinations of macro and micronutrients to meet high biodegradation rate demands. Urea-Nitrogen, phosphates dissolved iron and pH buffers can be added to the mix after reviewing site conditions. Dosing
typically targets a 20:1 BOD to NH3 – N ratio and 200:2 BOD to PO4 – P ratio.
Downloads