---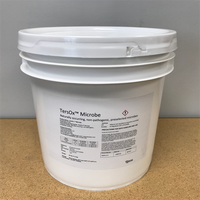 TersOx™ Microbe
Features and Benefits:
A synergistic blend of preselected, adapted microorganisms for bioremediation
Powdered product for easy implementation, injection & distribution
Effective on crude and many petroleum derivatives

Fast-acting, affordable, and effective solution
Compatible with bioremediation products from Tersus 

Packaging:
25 lb. Pail
Application
TersOx™ Microbe is a synergistic blend of preselected, adapted microorganisms formulated for a broad range of bioremediation programs. It is specifically formulated for use in solving problems associated with spillage of and other forms of contamination by petroleum hydrocarbons, petrochemicals and related wastes.It is effective on crude petroleum, gasoline, and diesel fuel, machining oils, hydraulic fluids, solvents, monomers and other petroleum derivatives.
TersOx™ Microbe combines preselected, adapted microbial strains with enhanced hydrocarbon degrading capability. When used on a regular basis, this combination can improve the breakdown of oily and chemical mixtures at nominal cost. TersOx™ Microbe contains a combination of aerobic and facultative anaerobic microorganisms selected from nature for their ability to break down a broad range of wastes from petroleum recovery, transportation, storage, and refining, steel making, metal forming, textile, hydrocarbon and chemical processing.
Downloads