---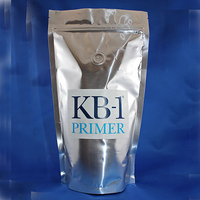 Anaerobic Injection Water Preparation

KB-1® Primer is used to prepare anaerobic water to disperse electron donors and protect anaerobic bioaugmentation cultures during injection into aquifers. In the past, production of anaerobic water was time consuming, and often produced water with solids that required filtration and that had pH impacts. SiREM has developed KB-1® Primer as an easy to use product to facilitate anaerobic conditions during remediation injections.

KB-1® and KB-1® Plus cultures contain microorganisms that promote dechlorination of chlorinated solvents. These cultures are strictly anaerobic, which can present challenges during injection into non-reducing aquifers and when electron donor and bioaugmentation cultures are applied simultaneously. KB-1® Primer does not adversely impact bioaugmentation culture activity or viability.
Packaging
800 gram pouch of KB-1® Primer treats 250 gallons.  For 1,000 gallon batch sizes we suggest the 3.2 kg pouch.  For larger volumes of water, custom sizes are available.
For open accounts or bulk quantities, contact SiREM.
Application
Use KB-1® Primer to:
Rapidly prepare anaerobic water from municipal water supplies
Inject anaerobic bioaugmentation cultures and electron donor simultaneously
Save money on lengthy tank rentals/incubation periods
KB-1® Primer: Safe and Simple to Use
Conveniently packaged in foil pouches
Easily dissolved; no need to filter water
Works within hours of application in most water types
Prepare anaerobic water even at low temperatures
Anaerobic injection water prepared with KB-1® Primer meets the following criteria:
ORP less than -75 mV
pH between 6 and 8
Provides the conditions to maintain healthy dechlorinating populations
Contact SiREM for more information on KB-1® Primer and their other leading remediation products and testing services.
Downloads
Anaerobic Injection Water Preparation